Mainstreaming Biodiversity Conservation and Sustainable Use for Improved Human Nutrition and Well-being
Project type
Multilateral
Introduction
The development goal of the project is to contribute to the improvement of global knowledge of biodiversity for food and nutrition and thereby enhance the well-being, livelihoods and food security of target beneficiaries in Brazil, Kenya, Sri Lanka and Turkey through the conservation and sustainable use of this biodiversity and the identification of best practices for up-scaling. The project will seek goals and objectives through the implementation of three components; the knowledge base, the policy and regulatory framework, awareness and out scaling, which are designed to improve.
Each country in the project contains unique biological diversity and associated traditional ecological knowledge that supports a large share of the world's food supply in a range of ecosystems that are global priorities for conservation. Since the biodiversity in these four participating countries is so vast, the use of these indigenous, largely plant, genetic resources is still scarcely explored, appreciated or conserved.
The project will work closely with various stakeholders and beneficiaries, including farmers and communities, NGOs, universities and government agencies across relevant sectors, including environment, health, agriculture and education.
Main Objective
To strengthen agricultural biodiversity conservation and sustainable management through mainstreaming into national and global nutrition, food and livelihood security strategies and programmes.
Outcome
Relevant sectors, including agriculture, environment and public health in the four partner countries, adopt the integrated knowledge base on BFN to build support for biodiversity conservation and enhanced well-being.
Enhanced policy and regulatory frameworks support the mainstreaming of biodiversity conservation and sustainable use across sectors
Tools, knowledge and best practices adopted and scaled up in development programmes, value chains and local community initiatives.
Period
November 2011 - October 2016
Budget
US$ 35,069,932.20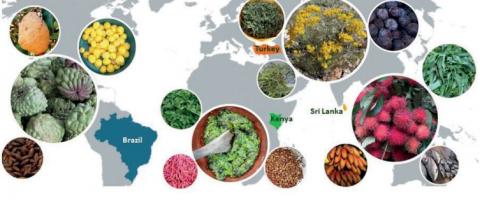 Sri Lanka