Document type
National Report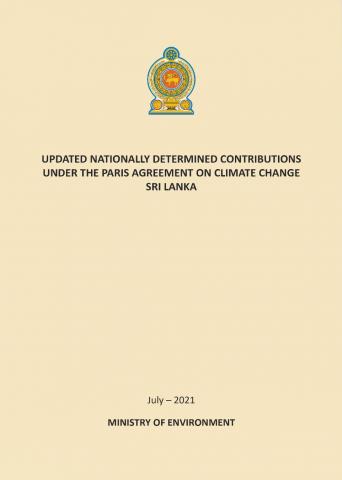 Sri Lanka submitted its initial NDCs in September 2016 as a country that ratified the Paris Agreement. In 2020, the Climate Change Secretariat began a process of updating the NDCs to be submitted to the United Nations Framework Convention on Climate Change prior to the 26th Conference of Parties.
The updated NDCs represent a more ambitious, quantified, and robust assessment of the mitigation potential and adaptation measures for the next decade (2021-2030) informed by up-to-date analysis, improved information and data, and an extensive stakeholder consultation process. TheseNDCs present newevidence on Sri Lanka's climate vulnerability, based on a recent analysis. Further, the NDCs present opportunities that have emerged through development partner- supported initiatives on low-carbon development pathways for key sectors such as power, transport, industry, waste, agriculture and forestry. They spell out urgent financial, technology transfer, and capacity building requirements, in line with Article 2 of the Paris Agreement, to fully adopt a resilient and low-carbon development pathway to upper-middle- income status.
These NDCs are fully integrated into the country's sustainable development vision and are underpinned by policy targets in the national policy framework 'Vistas of Prosperity and Splendor' envisioned by His Excellency Gotabaya Rajapaksa, the President of Democratic Socialist Republic of Sri Lanka. The National Climate Change Policy of Sri Lanka (2012) describes the national commitment as "Adaptation to and mitigation of climate change impacts within the framework of sustainable development". The recently developed National Policy and Strategy for Sustainable Development (Draft) has adopted a policy goal of achieving 'national commitments on climate change, while ensuring adaptation to and mitigation of climate change impacts'.
Publication date (of file/URL)
7 January 2021
Countries
Sri Lanka