Labeo fisheri conservation and update of IUCN Red List endemic freshwater fish species Location: Moragolla Hydropower project area, Upper Mahaweli basin
Project title: Labeo fisheri conservation and update of IUCN Red List endemic freshwater fish species
Location: Moragolla Hydropower project area, Upper Mahaweli basin
Duration: January 2019 to October 2019
Project Background
The 30-MW Moragolla Hydropower Plant proposed by Ceylon Electricity Board (CEB) was approved by Central Environmental Authority after evaluating the proposal under EIA regulations with specific mitigation measures. As the Government of Sri Lanka approached ADB for funding the project, a new set of environmental requirements were considered in line with ADB environmental safeguards.
As part of the ADB environmental safeguards, fish surveys were undertaken on behalf of CEB in 2016-2017 by National Aquatic Resources Research and Development Agency (NARA) which identified Labeo fisheri being present in the dam site area. As the project may have a direct impact on the critical habitat of Labeo fisheri, ADB required a critical habitat assessment to be conducted. Therefore, a further study of Labeo fisheri population including habitat requirements throughout their lifecycle, distribution in the study area and overall Sri Lanka and distribution/relative importance of habitat types present in the study area will be undertaken.
Therefore, the project will reassess the conservation status of the Labeo fisheri and evaluate the endemic fresh water fishes of Sri Lanka for IUCN Red Listing.  
Objectives of the project
Status assessment and long term conservation of Labeo fisheri under Moragolla Hydropower Project and upgrade the 62 endemic freshwater fish species in IUCN Red List.
Expected Outputs
(i) Critical habitat assessment as a stand-alone report to be appended to the updated EIA;
(ii) Assessment of the Labeo fisheri conservation status according to IUCN Red List Criteria;
(iii) Long-term Labeo fisheri conservation plan; and
(iv) Red List of Endemic Fish Species in Sri Lanka using IUCN Global Red Listing Criteria.
Donor/s: ADB
Partner/s: Ceylon Electricity Board, Department of Wildlife Conservation and Central Environment Authority.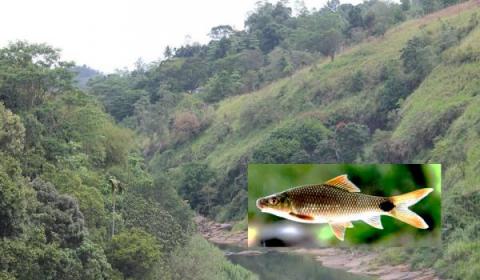 Sri Lanka