Designing Communication and Outreach Resources for the "Enhancing Biodiversity Conservation and Sustenance of Ecosystems Services in Environmentally Sensitive Areas" project including Reviewing the Existing Communication Strategy
Location: Kalaoya Basin, Sri Lanka
Duration: August 2019 to October 2020
Project Background
"Enhancing Biodiversity Conservation and Sustenance of Ecosystems Services in Environmentally Sensitive Areas" is a Global Environment Facility (GEF) fifth programme cycle project implemented by the Ministry of Mahaweli Development and Environment (MMD&E) and the UNDP. The primary objective of the ESA project is "to operationalize the concept of Environmentally Sensitive Areas (ESA) as a mechanism to mainstream Biodiversity in development planning and landscape management, especially in areas of high conservation significance." As such, the Project develops and promotes the adoption of the ESA concept, based on ecological perspectives and related tools among agencies and stakeholders involved in managing landscapes or seascapes in the country.
ESA project has identified two outcomes; (1) National Enabling Framework Strengthened to designate and to manage Environmentally Sensitive Areas (ESA) (2) Biodiversity friendly ESA management for long term integrity and resilience ensured at three sites in Kalaoya Basin.
Accordingly, it is important to develop and deploy the communication strategy and action plan to successfully implement the ESA project activities. Since ESA is a novel concept, the management of ESA sites depends on a co-management approach. As such, clear communication is a strategic level tool that is required for successful implementation of the project. Therefore, periodic reviewing of the communication strategy and producing outreach and communication resources are high priorities in the ESA project.
IUCN is closely working with the ESA Project implementing team to develop communication and outreach resources for the project area in order to facilitate project activity implementation, as well as to obtain stakeholder support to popularize the ESA concept. 
Objectives of the project
Revise the exiting communication strategy to meet the requirement of ongoing project activities and for rest of the project period.
Identify and develop outreach and communication resources which are essentially needed to implement project activities at ESA site level and also give recognition about the ESA concept at national level.
Provide opportunities to use ESA concepts and tools in future projects, including GEF Cycle 06
Expected Outputs
 Revised Communication Strategy and Action Plan
 Resource profile of Kalaoya basin; Resource profile for managers and policy makers
 ESAs – Comprehensive guide book on ESA (booklet/pocket guide)
 Leaflet and posters (for three sites)
Toolkits to promote the ESA concept among the private sector
Guidelines to help address existing and emerging selected conflicts
Awareness and training workshops for project partners and stakeholders
Donor/s:  UNDP
Partner/s: Biodiversity Secretariat of Ministry of Mahaweli Development and Environment, Central Environment Authority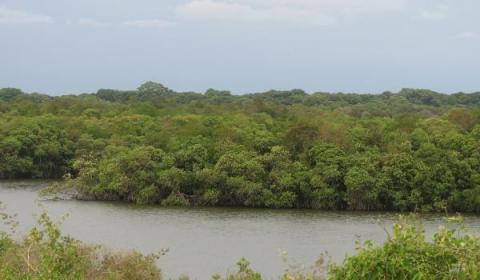 Sri Lanka